Swim nappies are one of the critical elements that you should not forget when taking your baby swimming. Many say that they are not a treatment option, and you can use your normal diapers in the pool. The statement is not true. Today, we will see why reusable nappies are best for swimming, and that you should have them in your bag.
As a parent, you should be mindful that your baby doesn't contaminate the pool as a result of any faecal accidents. Any leaks while swimming will result in hours of closure of the pool for the public, and also rigorous cleaning before they open again. The disposable and reusable swim nappies are readily available in supermarkets, or online. A few companies make it of top-notch quality so that you don't have to be the reason behind the shutting of public pools.
If you have not heard about reusable nappies, let us first know what they are, and how it is useful for parents.
What Is A Swim Nappy?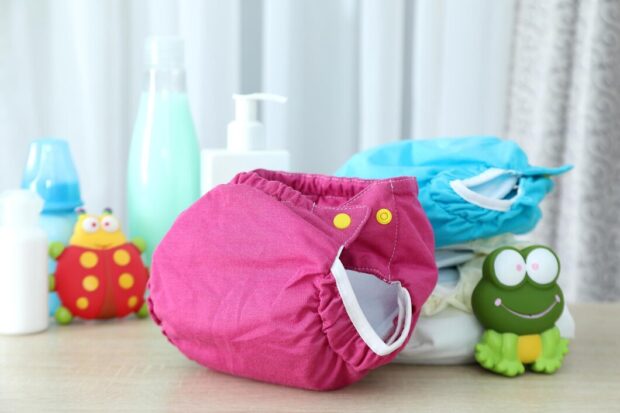 Swim nappies are different from regular nappies. They have one major difference. The diapers do not absorb urine. The reason behind it is that if the swim nappies were capable of absorbing water, they could absorb water from the pool as well, thereby resulting in a much heavier nappy. Such a nappy will not only be uncomfortable for your baby but will also have the risk of the baby drowning.
A swim nappy serves one main purpose, which is to stop faecal matter from entering the pool. They are available in two options, reusable and disposable, and no matter which one you choose to buy, the nappy will serve its purpose.
Sizing Guide For Swimming Nappies
The swim diapers available in the market are available in different sizes just like the normal ones. The numbers mentioned on the diapers are the number depicting the size of the nappy and not the age of your child. To make sure that the sizing is perfect for your baby, you should choose a number close to the normal nappy. A snug fit will have a high chance of leaking.
Some disposable options are available with fitting options so that small babies of all sizes can wear them. They have adjustable tabs for a secured fit. The diapers just look like normal shorts and are tight enough at the waist and thighs. Though they are comfortable and don't leave a red mark.
Tips To Use Swim Nappies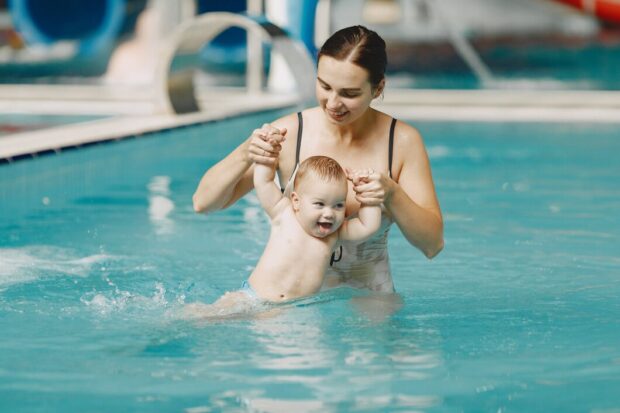 By now it is clear that swim nappies are the best for babies when you take them swimming. You must have made up your mind to buy them for your baby. When you do so, there are a few tips that should be kept in mind for added benefits. Let us go over the tips to help you obtain the maximum benefits of those diapers.
The swim nappies are not for containing urine, so you should not make them wear them very soon before going into the pool.
The disposable options available are at times not so effective in preventing the leaks of faeces into the pool. If your child has had diarrhea or has loose stools, we recommend skipping swimming with the child.
While in the pool, you should keep checking your baby's nappy and consider a change if it's soiled. Change even the reusable ones since you don't want to take any chances.
Do not make the mistake of using regular nappies in the pool since they absorb too much water, and they will do so from the pool thereby making the nappy heavy.
If you have a toddler, consider small breaks every 30-60 mins to make sure they are not uncomfortable or their nappy is not soiled.
Guide To Using Reusable Nappies
Undoubtedly, using reusable diapers is the best option as compared to using disposable ones. Let us now go over a few steps of using reusable nappies for added benefits.
1. The reusable diapers are effective and work fine on their own. However, you may have to at times put the disposable diapers underneath for extra benefits. Some diapers come with nappy lines for effective cleaning and the best results.
2. You should regularly check the swim diapers so that there is no soiling and the child is just doing fine while swimming. Even if it's a reusable one, you should change the nappy if it is soiled.
3. Some nappies are designed in a way that they look like swimwear. That said, even if you don't make them wear anything, it should be fine. Others available are not that great looking, and so you may have to make them wear swimwear over the nappy.
4. Once soiled, all you need to do is to rinse the nappy using water, and nothing else is required. Met the nappy dry and it will be ready to be used again. We recommend avoiding using soap or any chemicals for cleaning, since the material and quality may degrade, as a result.
The Usage Of Reusable Nappies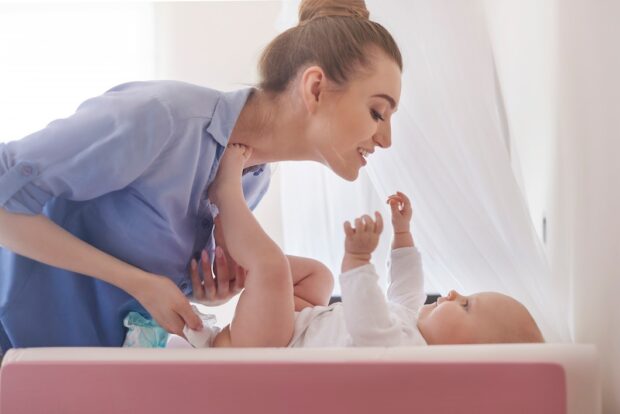 Reusable nappies will work like just any other swimwear and you will not have to invest in buying them again and again. You can buy 2-3 of them and use them again and again just by rinsing them. It will not cause any chaffing or soreness, even if worn outside water. You can use them as regular nappies as well.
However, bear the fact that they cannot handle urine. They dry up quickly after washing and so you will not have to worry about exhausting all the pieces that you have bought. Even if you are a regular swimmer, buying two nappies will be enough, and you can use them on a rotation.
Summary
Some reusable nappies are available in a plethora of design and color options for babies. You can buy them for your baby and make them look cute while wearing them. They are the most effective way of enjoying swimming to the fullest, with your baby.