Destiny 2 is one of the most popular games on the market right now. The looter-shooter games have been on the rise lately, and D2 is the greatest of them all. It's fun, fast-paced, competitive, and it's even available in a free-to-play version.
Because of it, even more, players are beginning to flock to it. But the thing is, the difference in skill and experience between new and seasoned players is too great for many newbies to overcome – so they quit.
Now, since you're here, we can safely assume you're not one of the quitters, and you're here to learn how to get better. Well, if that's the case – you're in luck. We have more than a few tips and tricks to share with you. Let's check them out!
Treat Yourself To All The DLC's And Season Passes
Games are about having fun and enjoying yourself, so our first tip for you won't be about how to get better at Destiny 2, but instead, we're going to tell you how you can make the game itself better.
The New Light edition of D2 eliminates the need for a lengthy grind because all players start equal, and by equal, we mean fully geared and maxed up. In addition to that, New Light also allows the players access to all the locations – for free. So, all in all, that sounds like a really good deal for new players.
However, the additional trinkets are the heart and soul of this game, so it would be advised that you get all the expansion packs, DLC's and a current Season Pass so you can enjoy all the extra missions, rewards, and all that other great stuff.
Pick The Right Class
In life, we're often met with tough choices, and when it comes to Destiny 2 – you're met with a tough choice right before you start playing. That tough choice is choosing the class. Many people struggle with it, although, to be fair, the classes are very well balanced. Every class has a set of advantages and disadvantages, so you're pretty much free to choose whichever.
Most people choose Hunter simply because Hunter looks so freaking cool and take it from someone that has spent probably way too much money on in-game cosmetics – choosing a character simply based on looks is not a good strategy.
Sure, looks matter, and you have to look good to play well, but in this case, we have to suggest choosing the Titan. This is especially true if you're new to the game. Titan is pretty easy to use, and it wields so many cool abilities that we couldn't even begin to name them all. So, if you're starting – go with the Titan. You won't regret it.
Don't Skip The Campaign
We know that this one might be a bit controversial, but our third tip for you would be not to skip the campaign. Sure, the game allows you to skip the main campaign and just go straight to battling other people, but we really feel that you shouldn't skip the campaign if you've never before played Destiny 2.
Not only will you get familiar with game mechanics and get better at it as you progress through the campaign, but you'll also get to enjoy a pretty cool story. Once again, we're sure you won't regret it.
Get Some Help With Grinding
We might be a bit unfair since we're mostly focusing on the newcomers to the D2, but then again, if you're a hardened veteran in this game – do you really need some tips? So, this is another tip for the rooks – get some gameplay with the pros.
Whether you go on this website and hire a seasoned veteran to help you grind, boost and level up, or go to a friend that's been playing awhile doesn't really matter, but if you want to progress quicker – you will have to get some help.
Having an experienced player in your corner will have you go from noob to pro in a matter of weeks, possibly even faster. Now, if you enjoy the grind – go for it. Knock yourself out. There's nothing wrong with doing that. You'll reach the 1300s eventually. But, ask yourself this – how long will it take for you to reach the Flawless Trials of Osiris, Vault of Glass, or Grandmaster Nightfall? Yeah… We thought so, too.
Mod It Up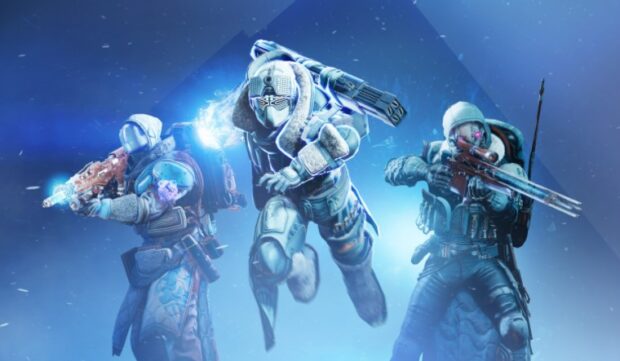 Long before you reach power levels of 1300 and more, you're going to reach 280, and once you do – you'll get to mod your gear at the Gunsmith. And, this is not something that you can, but don't really have to do. If you want to become a fearsome presence on the battlefield, you're going to have to add some particular mods to our gear, craft a few things here and there and gain yourself some additional power points in the process.
Know Your Colours
Treasure chests in Destiny 2 are color-coded – so to speak. The loot, or Engram, as it's called in the D2, comes in different colors. And, as is often the case in looter-shooter games, each color represents the rarity of the item you're looting.
In D2, white Engrams aren't particularly valuable as they're Common. The green ones are not quite as common as the white ones, although they're still not too valuable. Blue ones are Rare, but still – you could do better. Now, when it comes to the purple Engrams, well, those are Legendary, and they offer quite a few useful perks. And, finally, the yellow or gold engrams are the Exotic Engrams, and they're the ones that are most rare and most valuable.
Why does this matter, you ask? Well, it's all about priorities in a game such as this one. And, if you're forced to make a split-second decision, you better be able to make the right one. In this case, that's choosing purple Engram over a green one.
Conclusion
There you have it. As you can see, the most useful tips are the ones that are most often overlooked. Many players, especially new ones, try to learn all the advanced strategies, "pro-tips", secretes to more lucrative raids and whatnot, but the truth is – you need more time, skill and in-game hours if you want to become better at those things. None of them are worth it if you don't have the basics down. So, we hope you appreciated the tips we've given you. Take care.